Dedicated Trucking Services
Line Haul Trucking
Do you need materials transported in Oregon and Washington, or the St. Louis, Missouri area? Bridgetown Trucking offers flexible and customizable services to fit your business needs. We work with your schedule to get your goods where they need to be, when they need to be there — fast, simple, straightforward.
Here's how it works:
When you use our dedicated trucking services, you'll have a tractor, trailer, and one of our trusted drivers available to you during a time frame we both agree upon. They won't be used for any other customers while we're working on your shipment (however, we can optionally combine your smaller shipments with other loads in order to offer you lower rates).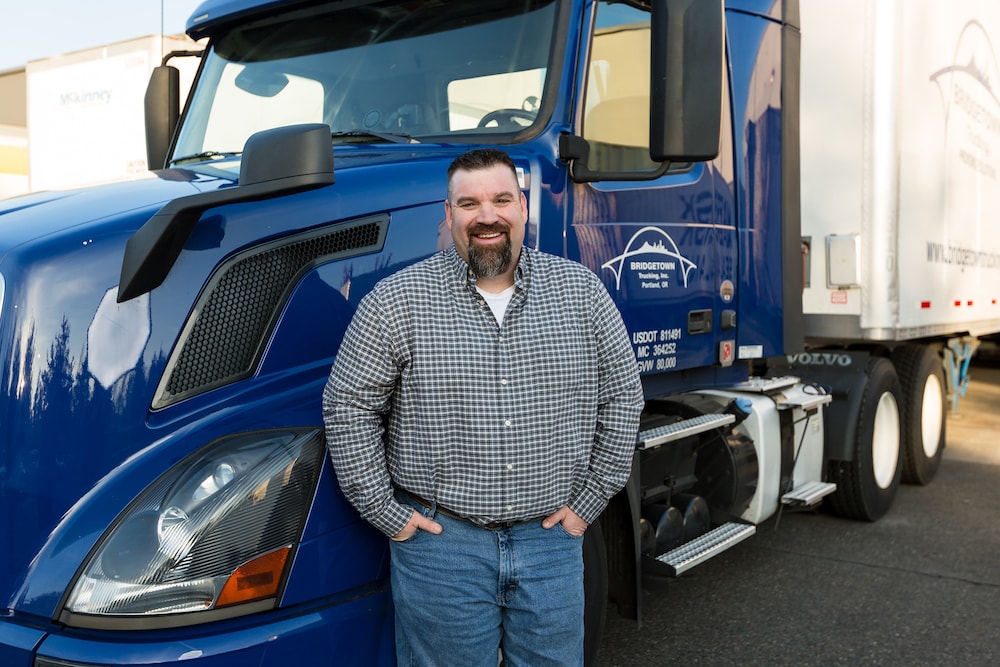 This gives you a great deal of flexibility when it comes to moving goods on your schedule.
From Fortune 500 companies to smaller ecommerce operations, businesses of diverse sizes and industries rely on Bridgetown Trucking for:
Moving goods between facilities
Moving goods from facilities to customer sites
Picking up materials for just-in-time deliveries
Receiving, holding, and sending out raw or finished goods
If you have had difficulty in the past finding a transportation company that will work with your specific needs, you've come to the right place. At Bridgetown Trucking we're proud of our reputation for diverse, dependable dedicated trucking services that meet and exceed our clients' expectations.
FTL & LTL Trucking Options
We've been offering dedicated and specialized trucking services for nearly two decades. Our years of experience and nimble business model allow us to offer exceptional services for shipments of any size, including FTL and LTL shipments.
Full Truck Load (FTL): We can easily accommodate large shipments. If your shipment is big enough to fill a trailer, (we have trailers in several lengths)  it's simple. We can transport your goods directly where you need them in one trip.
Less than Truckload (LTL): Need smaller loads transported? No problem. We can provide dedicated transportation or combine them with other shipments to offer you lower rates and, in many cases, faster delivery times.
Not sure if you have a full truck load or not? A general rule of thumb is that a full truck load is typically around 10,000 pounds to 64,000 pounds. Anything less is usually an LTL shipment. It really depends on what it is that you're moving, though. The best way to know for sure is to get in touch with us at Bridgetown Trucking. We'll learn about your materials, talk through your options together, and provide you with a quote.
Whatever your shipment size, we'll work with you to figure out the most efficient way to get your goods safely from point A to point B on time.
Our Line Haul Services in Oregon & Washington
Our Portland, OR location offers line hauls (city to city) throughout Oregon and Washington. For full truck loads, our service area includes line hauls from the coast to Eugene, Seattle, or Bend.
Our trucks cover more than 4,000 miles each day, to and from cities like:
Seattle
Tri Cities (Richland, Kennewick, and Pasco in Washington State)
Moses Lake, WA
Portland
Eugene
Salem
and many others
Just let us know where your goods need to be and when. We'll help you figure out the best way to get them there.
Our Midwest Line Haul Services
At our Midwest location, we offer line hauls in and around the greater St. Louis, MO area, from Columbia, MO to Evansville, IN or from Peoria, IL to Springfield, MO.
Our service area depends on whether we're carrying a FTL or LTL:
FTL: within a 200 mile reach from the city center in St. Louis
LTL: within a 50 mile reach from the city center in St. Louis
Request a Quote from Bridgetown Trucking
Our solid operational framework, flexibility, and commitment to providing solutions for our clients allow us to customize our services to meet your needs in a way that other trucking companies simply cannot.
Are you ready to find out how Bridgetown Trucking can help you?
Trucking Services Inquiry Form
Your business is very important to us.  Please provide us with as much information as you can about the services you desire.
We will contact you within 24 hours from receipt of your request during normal business hours.  Thank you for contacting us.