You have seen them on the road carrying everything from sewer pipes to manufactured homes. Indeed, they are hard to miss with their wide load signs and occasional police escort. 
But how much do you really know about the advantages and disadvantages of using a flatbed truck for your shipping needs? 
Find out if flatbed trucks are a good option for your transportation needs.
Okay, What Exactly is a Flatbed Truck Anyway?
One thing that is immediately confusing about flatbed trucks is that they come in so many different sizes and varieties. When you get right down to it, there is one the thing that they all share; every single one of them has a rigid flat base called the bed and lacks a roof or sides to contain the load.
But that is where the similarities end. Some flatbed trucks may have hinging sides that can be dropped or removed when necessary. These are called drop-side trucks. Other types of flatbed trucks have removable poles along the sides to make it easier to tie down cargo. These are called stake trucks.
Flatbed trucks can also have the bed permanently attached to the cab or, more commonly, the flatbed portion may be a detachable trailer. In addition to the more standard flatbed trailers which have their beds at a consistent height, there are specialty flatbed trailers that have variable bed heights. These specialty trailers include gooseneck, step deck, and double drop trailers.
A common question many people have is how long are flatbed trucks? Well, the answer is that it depends. Flatbeds can range from just a few feet all the way up. The most common length for trailer-type flatbeds is 48 feet long. Most standards flatbed trucks are 8′-6″ wide, and anything wider will require special permits to drive.
What is the Purpose of a Flatbed Truck
?
If you have oversized or oddly shaped cargo to move, then you can't do much better than using a flatbed truck to get it from point A to point B. Some of the most common types of cargos for flatbed trucks include heavy equipment and machinery, construction materials, scrap metal, baled tires, and super sacks. 
Really, just about anything too bulky or difficult to load into a container box type of trailer. After all, the versatility of a flatbed truck is what makes it such a useful and popular trailer choice for industries ranging from construction to manufacturing.
What are the General Restrictions When Driving a Flatbed Truck?
Unfortunately, the flexibility of a flatbed truck does come with a few additional restrictions. Besides the length and width restrictions mentioned above, there are also limits on the height and weight of flatbed trailers.
In the vast majority of the states in the US, the total height of the trailer along with the load can't be more than 13′-6″. That means that on a standard flatbed with a five-foot-tall bed, all cargo must be less than 8′-6″ tall including any tie-downs and tarps. Anything taller is considered oversized and will require special permits.
Eighty-thousand pounds is the limit when it comes to weight for most highways in the US. It is important to remember that number is the combined weight of the cab, the trailer plus the cargo. Therefore, a standard 48-foot-long flatbed trailer with cab weighing approximately 48,000 pounds can haul about 32,000 pounds of cargo.
An experienced trucking company will help you figure out what restrictions may impact your shipment, and what can be done to get your cargo transported safely.
Wide Load vs. Oversize Load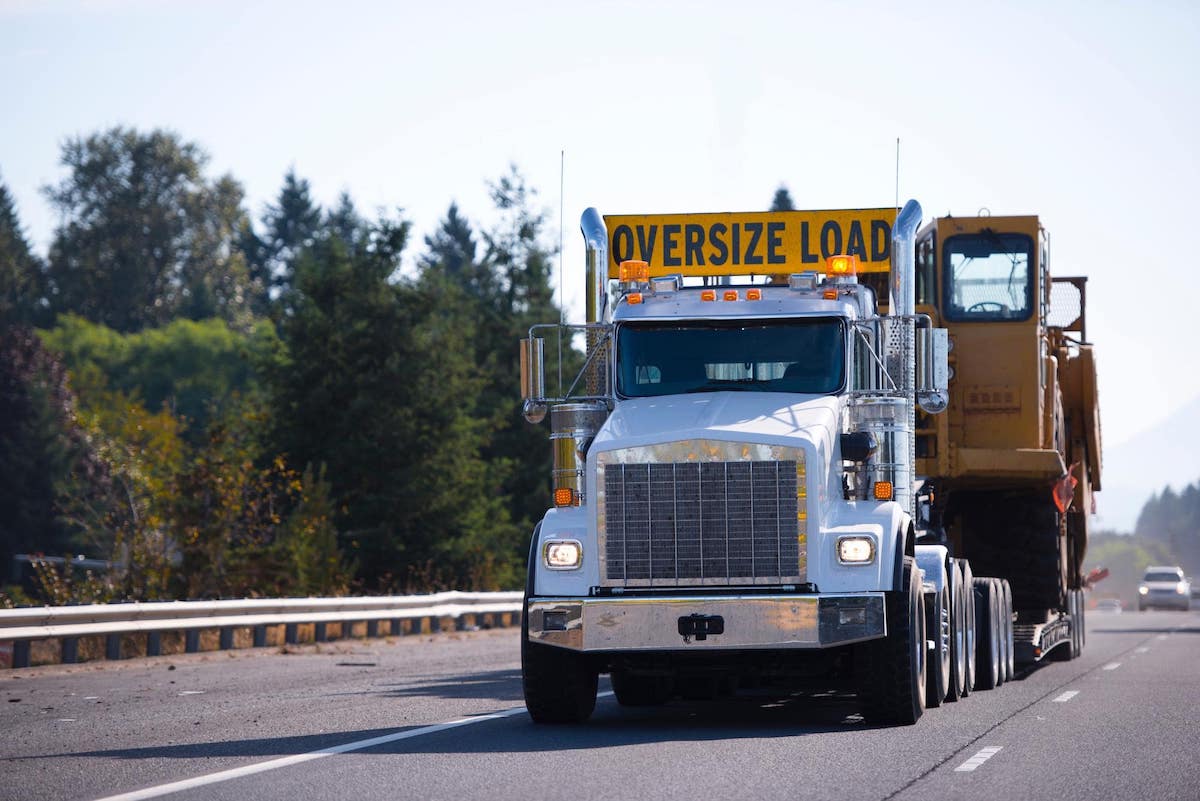 It is impossible to discuss flatbed trucks without mentioning wide loads and oversize loads. Many people don't understand the difference between the two terms. But it really isn't all that confusing. The only thing you need to do is to remember one simple concept: All wide loads are oversize loads, but not all oversize loads are wide loads.
A wide load is any load that exceeds the legal width for cargo for a particular state. Almost all states in the US require special permitting, signage and flags for any cargo being carried on a highway which is greater than 8′-5″ wide. If a load exceeds 12 feet in width, most states require an additional escort vehicle or perhaps even a police escort to drive through certain areas.
On the other hand, an oversize load is any load that is wider, higher, or heavier than is regularly permitted to travel in the area. Oversized loads require permitting, and may also necessitate an escort.
In many states, it is illegal to operate a vehicle pulling an oversize at any time outside daylight hours. For states which do allow nighttime travel, truck drivers need to adhere to all safety requirements concerning additional light such as color and placement.
Bridgetown Flatbed Trucking
If your business needs a reliable shipping solution for oversized or awkward cargo, you can count on Bridgetown Trucking to have you covered. 
For close to 20 years, businesses have depended on Bridgetown Trucking for transportation, warehousing, and order fulfillment services in the Washington, Oregon, and St. Louis areas. When it comes to flatbed trucking, Bridgetown Trucking drivers are the experts.
Learn how you can make dealing with your company's logistics and shipping easier by calling Bridgetown Trucking at 503-528-9705 or sending a message about your transportation needs!